Dr. Mike Abrams, PhD, MBA, ABPP
Board Certified Licensed Psychologist in NJ and NY
Dr. Mike Abrams is a Licensed Psychologist in New Jersey (#2564) and New York (#10659); he has practiced psychotherapy for more than twenty five years. He is a board certified Diplomate of the American Board of Professional Psychology, he is a Fellow of the American Academy of Cognitive and Behavioral Psychology, and he is a Supervisor, Fellow and Diplomate of the Albert Ellis Institute. Dr. Abrams is known for his genuine empathy when working with people in crisis and is a strong advocate for complete acceptance for all people in psychotherapy. Moreover, he rejects all pretense, condescension, and arrogance on the part of the therapist. He teaches that the therapist must be a real person whose skill and training permits him to help others as equals in the therapeutic process.
When working with clients he emphasizes Cognitive Behavioral / Rational Emotive therapy, although he has had substantial training in all therapeutic methods and teaches them to aspiring psychologists in NYU. He is a certified supervisor in Rational Emotive and Cognitive Behavior Therapy and a diplomate in CBT from the American Board of Professional Psychology. He has co-authored four books, a book chapter, and a journal article with the creator of cognitive behavior therapy, Dr. Albert Ellis. His collaboration with Ellis extended over 17 years. In addition, Dr. Abrams is credited with extending Ellis' theory of human personality.
He is currently on the faculty of the masters program in psychology at New York University and continues his research and writing in psychology. His current efforts include studying why educated and intelligent people will often not comply with health regimens that would extend their lives. In addition he is researching why paraphilic sex (like fetishes) have such a strong hold on people's sexual behavior.
The linchpin of his help is his absolute avoidance of moral judgments. He deeply holds that no one should suffer shame or guilt about past events. Dr. Abrams works to make the future better than a painful past. He does all he can to help all clients no matter what their problem, history, or background.
He has extensive experience working with people with mood (depressive and bipolar disorders), anxiety disorders, and social and sexual conflicts.
His experience also includes extensive work with people in crisis. He has helped people in crises arising from such stressors as criminal charges, job loss, and sexual problems. His experience includes helping both men and women who had been sexually victimized or traumatized.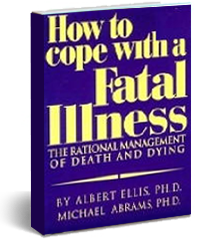 Dr. Abrams has worked with people facing acute illness (he is the co-author of
"How to Cope with a Fatal Illness."
)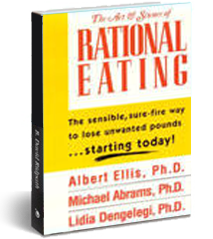 His expertise also includes eating and intake problems (he also co-authored
"The Art and Science of Rational Eating")
.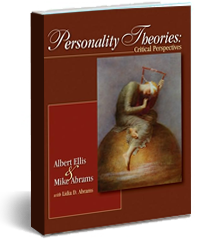 Dr. Abrams co-authored a college textbook:
"Personality Theories: Critical Perspectives"
it was written with Dr. Albert Ellis and Dr. Lidia Abrams.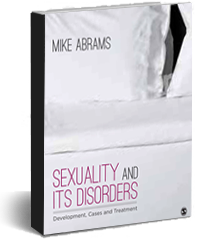 Dr. Abrams researched and authored a textbook on the development of
"Sexuality and Treatment of Sexual Problems"
He has published numerous journal articles on topics ranging from sexual problems to the cognitive foundations of psychoanalysis.
He has three advanced degrees in psychology including the PhD. After earning his PhD he completed a two year post doctoral program at the Albert Ellis Institute where he studied clinical applications of cognitive behavior therapy.
Dr. Abrams has received commendations from the Governor of New Jersey, the Hudson County Executive, and the Mayor of Jersey City for with work with chronically ill, indigent, and disabled persons. Dr. Abrams is currently working with the Mayor of Jersey City to help reduce homelessness.
He has provided mental health consulting to the New Jersey Division of Mental Health Services, New Jersey Division of Addiction Services, New Jersey Department of Human Services, and the Peer Review Organization of New Jersey.
In additional to his remunerated clinical work, he had spent several years providing pro-bono work to persons with AIDS and the impoverished.
He has taught undergraduate and graduate psychology at William Paterson University, Montclair State University, Fairleigh Dickenson University, New Jersey City University, Brooklyn College, C.U.N.Y., St. Peter's University and at the Stern School of New York University, and the Graduate School of Arts and Sciences of NYU.
Prior to his professional work in psychology Dr. Abrams earned an MBA degree and worked in organizations such as the New York Stock Exchange, Merrill Lynch, and Citigroup. He has also consulted to numerous organizations.
Please Email Us for More Information at:
Overview of Theory
Rational Emotive and Cognitive Behavioral Therapy Technqiues

Rational Emotive Behavior Therapy fits under the broader category of Cognitive Behavioral Therapy, which also includes many newer forms of therapy.

Rational Emotive Behavior Therapy (REBT) was founded in 1955 by Albert Ellis. There have been many contributions from around that time until the present day, to Cognitive Behavioral Therapy in general. Originally, CBT was developed to help individuals overcome depression and anxiety, but even Ellis himself began applying it, as early as 40 years ago, to couples and family therapy

The main idea behind CBT is that the thoughts and beliefs of individuals and family systems affect how they operate in very powerful ways. Mistaken beliefs and negativistic thinking can both contribute to and maintain negative behavioral patterns, interactions, and even mental illness

REBT specifically focuses on the events (A), beliefs about the events (B), and the emotional and behavioral responses (C) that occur within individuals or families (Dryden, 2003). The idea is that while events (A) cannot necessarily be prevented or changed, in all cases, the beliefs people prescribe to them (B) can, and thus the emotional and behavioral responses (C) to these events can as well.

Successfully changing maladaptive thinking can even be powerful enough to lift a depression or help an unhappy couple renew their marriage. Additionally, REBT or other forms of CBT can be applied to help improve or manage even more biologically-based mental illnesses, both in the individual and in the family affected by it

The process of assessment for REBT, and other forms of CBT, involves revealing the mistaken beliefs or maladaptive thinking that is causing or contributing to a problem. For example, a depressed patient can describe thoughts such as, "I know people think I'm ugly" or "There's just no point in trying. Nothing will ever work." The thinking errors of mind-reading and black and white thinking can clearly be seen in these two remarks. The same two errors can be found in the thought processes of a couple. One individual may admit to thinking, "He just says I look good, but he really thinks I'm fat." The other partner may think, "She is completely untrustworthy" (CBT Partnership, 2007).

Examining life experiences can help shed some light on the development of a person's maladaptive thinking. Maladaptive thinking can help explain the negative emotions the person is experiencing and thus the self-defeating behaviors like alcohol and drug abuse. For example, a female who experienced child abuse develops the belief that she is unlovable. As an adult, she feels shame and suffers from agoraphobia (CBT Partnership, 2007). To combat the anxiety resulting from these beliefs, people commonly turn to drugs and alcohol as a form of self medication for these undesirable feelings.

In working to bring about change in the client, Leichsenring et al. (2006) states that once thinking errors are exposed, the therapist can employ a "style of trained questioning (called Socratic dialogue or guided recovery) [which] gently probes for patient meanings and stimulates alternative viewpoints or ideas" (p. 235). The idea is to work towards a "skillful collaboration" in which therapists can help patients discover healthy alternatives to their way of seeing things. When they perceive things differently, they can begin to act differently.

Some of the most widely-used methods of CBT are systematic desensitization (a form of "counter-conditioning" that can help victims of trauma or people with phobias), Exposure/Response Prevention (for similar clients), relaxation techniques, positive and negative reinforcement, cognitive modification (changing in thinking patterns as previously described), assertiveness training, stress management and problem-solving (Leichsenring et al., 2006).

Cognitive Behavioral Therapy is one of the best researched and most validated forms of therapy. REBT and CBT, in general, can be applied with almost any other type of therapy as the concepts involve specific techniques that can be generalized to almost any individual or family. Marriage and family therapy can easily include CBT techniques, whether or not the therapist is practicing a somewhat 'pure' therapy or taking a more eclectic approach.
Dr. Mike Abrams and Dr. Lidia Abrams psychologist NJ Licensed and NY Licensed is dedicated to the highest level of client care.